80S WALL ART IDEAS
POSTERS AND PRINTS
Disclosure: Simplyeighties.com is participating in the Amazon Associates, Displate and Etsy affiliate advertising programs. These are designed to provide a means for websites to earn fees by advertising and linking to items on their websites.
Whether you want to give some bare walls in your home a touch of retro coolness, or you want to add a complete 80s theme (maybe for a party), you will find plenty of useful ideas in this blog post, with links to the best stores selling posters and prints. So where are the best places to buy 80s wall art?
Etsy have a stunning range of 80s art. As I write, there are 83 pages, so there is quite a lot to view. You can find many of our favourites below.
The biggest and most diverse range of 1980s themed wall art I have seen is at Displate - they have literally hundreds of different designs in stock.
The obvious search terms to use are "80s poster" and "80s print", depending on how large you want your wall art to be. However, while you will find many great ideas using these searches, there are hundreds of pages to get through, so you may want to narrow down your search further. Indeed, you could base your theme on a particular movie, year or pop star from the era.
Abstract artwork looks particularly good in a frame.

Posters at Amazon
Another decent store to find 80s posters is Amazon. The designs are more mainstream than those at redbubble, but you will find some good movie and pop star ideas, nonetheless. The UK store certainly featured a better range of products than the US one, though.
80s Posters at Amazon.com (US)
This low-cost and handy pack of 10 posters featuring the biggest pop music acts from the 80s was available at the UK Amazon,
Posters and Prints at Redbubble
Okay, as this post is about giving you wall art ideas, let me give you some right now. I've linked to redbubble.com as they have, by far, the biggest and most interesting range of posters and prints.
The most impressive 80s wall art (and the most expensive!) comes in the form of framed and metal prints, art prints and photographic prints. If you want to add a touch of class to a room, then try the following search terms;
with a choice of frame colours and background colours.
Printed on a cotton/poly blend Canson canvas for bright whites. UV protection lacquer and long life inks.
Superior quality silver halide prints printed on professional photo paper with fine grain pebble texture.
These are printed on stunning 240gsm natural white archival paper with archival ink.
These are available with a high gloss or satin finish and infused with lightweight, cleanable aluminium with gently rounded corners.
Theme ideas
I have linked the following theme ideas to the posters section at redbubble.com, as posters are the most popular and cheapest form of wall art and ideal as a decoration at parties and events.
If you want to opt for a retro gaming theme, then search for "80s Computer Games" on google and you will find a very helpful list of popular titles displayed at the top of the screen.
For a movie theme, type "80s Movies" into google and, once again, a useful list of popular films will be displayed across the top of your screen.
Another idea is to base your theme on a particular year from the 80s.
Wall Art at Zazzle
Another store that has a large selection of 80s themed posters is Zazzle. Here are links to the UK and US stores;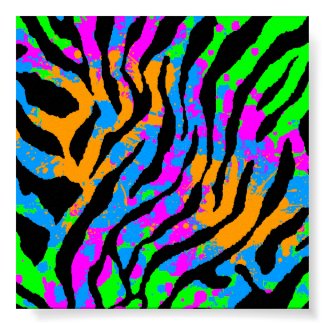 Corey Tiger 80s Retro Tiger Pattern Poster by COREYTIGER
Check out Prints & Posters online at Zazzle.co.uk
Corey Tiger is an artist that specialises in colourful 80s artwork and has many exclusive designs on the site. If you want to grace your walls with something uniquely 80s, then these designs certainly fit the bill.
Corey Tiger Posters at Zazzle.co.uk
Corey Tiger Posters at Zazzle.com
Here are some popular posters I found at Redbubble to give you some more inspiration...
I hope you have found 80s wall art inspiration from my post. I'll leave you with some related links and more ideas;
The following products link to the Zazzle U.S. store, but you can change your location and currency using the "zazzle worldwide" link at the bottom right of any page at the site.